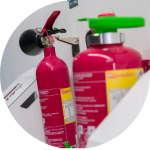 Evacuation plan
& Firefighter plan
Evacuation plans are designed to control the flow of personnel from inside the building to the outside.
The response plan aims to facilitate the flow of response teams around and to the buildings. In particular, it allows firefighters to prepare their response with full knowledge of the risks inherent in the company premises.
Thanks to its expertise, Ginge-Kerr Luxembourg supports you in the design, preparation and implementation of your plans. 
Ginge-Kerr will be your preferred point of contact for the design and preparation of evacuation plans and safety instructions, regardless of the type of company or premises.
We prepare your evacuation plans for all types of premises (new, old) by assisting you from taking information on site in order to determine the number of plans, their locations and their content, to printing them on the medium of your choice (brushed aluminium plates, plexiglass, etc.), and of course, their installation.
Your safety partner!
Since the creation of the response plan is very specific, we are at your disposal and manage for you the appointments with firefighters, the compilation of data and information to be included in the plan. 
Our experience and competence allows us to provide you with a "turnkey" plan ensuring compliance with Grand-Ducal regulations. 
Ginge-Kerr brings you its global expertise
Please do not hesitate to call us if you need more information.